The Momyer Chiropractic and Massage Team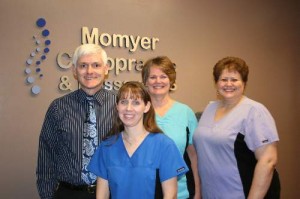 ---
Kathy – Office Manager
Kathy has been the office manager at Momyer Chiropractic and Massage, PS for the past 9 years. She also does all the billing in the clinic and is the person to ask with questions about your insurance coverage and payments.
Feel free to call her about any questions you have about your coverage for chiropractic.
---
Jennifer- Chiropractic Assistant
Jennifer has been lucky enough to experience the benefits of Chiropractic since birth. Need an appointment, supplement, or a warm smile, she is the one to help you.
Being involved in sports all her life, she knows that she has been able to bounce back on injuries due to her continued care of Chiropractic adjustments. Having delt with migraines the results she has had with the cold laser can't be beat.
She loves animals and is pictured with the company mascot named Laser.
---
Gaylene Jarnes-Massage Therapist
Living in the country as a child I learned to appreciate the quiet and peaceful moments in life. Minnesota is a great place to live as long as you can learn to deal with mosquitos,which by the way is jokingly referred to as Minnesota's State Bird.I have been blessed to have enjoyed seeing many parts of this great country. And along with that came the opportunities to enjoy some incredible job opportunities. Health care has been part of my life since I was a young child since my mother worked in a Nursing Facility for many years. It isn't too surprising that my first job was working in a nursing facility. With encouragement from my grandmother & mother, I knew that I would one day continue my education in the health care field.read more»
I have enjoyed working as a pharmacy Tech, a Physical Therapy Assistant in a nursing home, Resident Manager for an Assisted Living Facility, as well as being able to enjoy being the Director for two Youth Camp Food Service Programs for about 18 years as my children were growing up. How much fun to live at camp year round. There was even time to spend doing Hospice work. I have been blessed.
My journey through life had brought me to the place where I want to focus on my passion for massage. I am a 2007 graduate of Cambridge College in Bellevue, Washington. My studies included: Anatomy and Physiology, Massage Theory & Practice, Oriental Medicine, Sports Massage, Respiratory & Geriatric Massage, Trigger Point Therapy, Facial Massage, Hot Stone Massage, Body Systems & Nutrition, Reflexology, Chair Massage, Swedish Massage and ended with the externship program at the college's student clinic.
Massage is not just a job, it is my passion. I specialize in Deep Tissue, Relaxation, and Injury Treatment Therapy. I enjoy working in conjunction with Chiropractic Care. Being part of a team is rewarding.
In my spare time I enjoy traveling to see my three children and seven grandchildren, going to seminars, camping, and an occasion concert. Sharing a BBQ with friends and family is always a favorite past time. I am also looking forward to being a co-sponser for AMTA monthly meetings.
Make your health a priority for the upcoming year. It will be a pleasure to share my passion for massage. And don't forget, massage is a great opportunity to share. Giving a gift certificate for massage to a friend or loved one is an excellent way to say how much you care.
---
Jessi Stocco-Massage Therapist
Jessi graduated from Brenneke School of Massage in Seattle in February of 2002. After getting her license, she worked in a Chiropractor's office for 21/2 years, gaining extensive therapeutic treatment experience. She then opened up a very successful private practice in SeaTac. She closed her practice when she moved to Auburn last year.
Jessi has experience in relaxation, therapeutic massage, pregnancy massage, and reflexology. Her massage passion is deep tissue and therapeutic massage. She stays home with her two kids during the weekdays and works as a therapist on evenings and weekends.
---
Call Momyer Chiropractic and Massage, PS now to schedule an appointment and let's see how chiropractic care can help you!